Case Studies
Augmented Reality in Mobile Learning
by WorkLearnMobile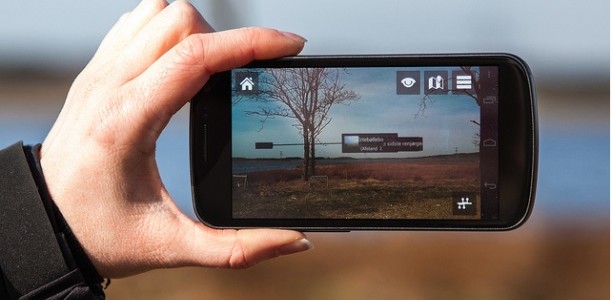 This is an edited version of a post originally published on Geoff Stead's moblearn blog in January 2013.
Introduction
Are you using augmented reality (AR) in your mobile learning? Should you?
We have all seen the news articles about Google Glass in recent months. It's just a small strand of current AR development causing excitement – and hype in recent years. M-learning has been slower to incorporate the AR that is currently available. We take a look at what is available and the potential AR offers education and work-based learning.
For a great explanation of AR check out this video from Common Craft.
Pretty much anything that helps you connect the real world around you with the digital, or virtual world classifies as augmented reality. You don't even need to superimpose it on the camera view if you don't want to. Examples like QR-codes, or bar code scanning also connect the real to the virtual, without requiring the real-live-view.
But for now, lets stick with live-view AR. One of the classic (and often quoted) examples of AR in workplace learning is this project from BMW. It isn't really being used, though. It was a demo made more than five years ago by BMW R&D. If you haven't seen it yet, it tells a great story.
The video shows a great example of how AR can be used in the workplace. Several companies, Qualcomm among them, have been investing heavily to get AR technology out of the labs, and into the mainstream.  There seem to be two main approaches when it comes to apps.
Geographical information, downloadable as layers.
The two main players here are Layar, and Wikitude.  Both offer a free app in the app stores, and allow you to download many different layers of information that will pop up as you move your camera around.
Layar focuses on creating fully immersive print whereas Wikitude uses GPS to create layers of data. Bear in mind that if using GPS data, you need to be outdoors, and positioning is not 100%. Both apps are nonetheless great fun to play with and it is surprisingly easy to make your own layers. Interested in setting up a history trail around your town? You can upload all the data as a new layer, and share with any other app users.
Visual (and other) Triggers
AR does not restrict itself to just geo-local information. Non-geographic items can be augmented as well using "triggers." Your phone recognizes visual images and triggers an augmented response. Apps like Blippar do this – you have probably seen their logo on film posters, magazines and product ads. Once you have downloaded the Blippar app, you can scan any known products/posters/images to trigger some form of media to be superimposed over your camera view.
Here is an example from the recent movie, "The Hobbit."
Although this looks incredibly slick it does not require great investment. It can now be in the hands of learners at a reasonable expense because the software is available for free, although it does require developer and media skills to add to an app. This makes AR an achievable reality (no pun intended).
As we move away from "how could we possibly afford/do this?" we can look at the more interesting question of "how could I use this for learning?" Blippar uses the "one app for all our AR" idea, much like Wikitude and Layar. But increasingly you can also find apps dedicated to one specific theme, embedding the same AR capability within them.
Here is a great example that has the added benefit of not being driven by marketing or product placement. The Science Museum in London has an incredible AR trial. As you walk around the museum's Making the Modern World collection, you can scan different exhibits to have a real-life 3D version of James May popping up on your screen to talk to you about it. (The app itself isn't free, but you can get the flavor of it in this video.)
You could use this to have animated diagrams of machines, video clips, or any form of media that would enhance the learning experience. The free developer kit mentioned earlier is called Qualcomm Vuforia™.  It is the engine underpinning a lot of the AR you will see in the mainstream media today. Most of the exciting, headline grabbing AR happens in the advertising world, but hopefully educators will see the possibility offered by this exciting technology.
Have you tried AR yet for learning? What did you do? We would love to hear from you.