Articles
Designing Learning for Mobile – Existing and Emerging patterns
by Jo Colley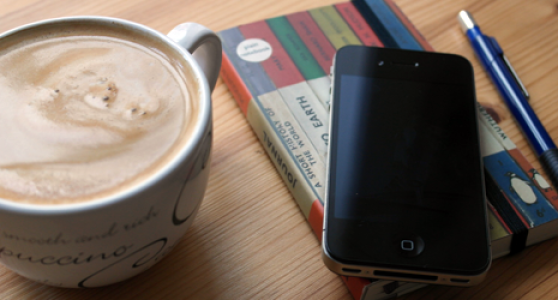 After a decade of moving into the mainstream, there is now no question in anybody's mind that the mobile, or more accurately the smartphone, is now an essential tool for learning, both in the classroom, at work, and in fact, wherever the learner may be. The ubiquity of the devices, with tablets also now making rapid headway, is clearly a huge element in a transformation in the way people access resources, organise their lives and do their jobs. But as the technology evolves, interacting ever more seamlessly with virtually everything we do, what are the implications for Learning designers? What kinds of learning or training content are currently available on your smartphone, and how is this likely to change?
Mobile e-learning
There is still a "traditional" aspect to mobile learning: the type that follows most closely the pattern established by e-learning, on which a chunk of m-learning content was originally based. This type of material typically takes the form of a course, with modules of learning downloadable to a device. The m-learning advantages of just in time and anywhere, anyplace come in to play in this scenario, as resources can be worked through in your own time, at your convenience. Here the issues are about repurposing resources adequately so that the user experience is seamless and engaging:there is an art in editing and reconfiguring content to fit the mobile user experience, which is far more than a resize to fit approach.
Mandatory courses

Repurposing resources to meet the needs of the learner fits the model of, for example, mandatory courses which employees are required to work through as part of their contract. These would have taken the form of a series of e-learning screens before the advent of mobile learning (and in many cases, still do). The best mobile courses use a multi-media approach and design materials to be fast paced and carefully edited to cover all the main points without getting bogged down in excessive text which can tax the user's attention span on a small screen. The added element of gamification, which takes elements from the world of computer and mobile gaming, can add interest and help to motivate and engage. The aim is to provide the equivalent depth of an e-learning resource with a greater element of interest and convenience.
Blended with other learning scenarios
In other scenarios, mobile is working in conjunction with other kinds of learning or training as part of a blended solution. Mobile is the ideal medium for quick reference materials, checklists and aide memoires, and can be extremely useful in a training context, where having swift access to knowledge or accurate processes can solve an immediate problem. The performance support tool approach, as exemplified in the Global MedAid project, works well in situations where individuals are remote from a training centre or educational establishment but need to have access to useful resources.
Performance Support and The Internet of Things
New ways with mobile to offer performance support is currently being investigated in the Learning Layers project with the aim of improving scaffolded learning in the workplace through use of technology. Construction workers are recording their work then uploading to a site where both tutors/supervisors and fellow students can view it. The ability to annotate video is also being investigated so that key points and questions can be clarified. This approach has the advantage of immediacy and practicality. It also takes advantage of the fact that tools people use in their daily lives can also be made available for learning, thus crossing the formal / informal divide.
In the near future, the camera phone may be superseded by wearable technology, such as google glasses. This could also facilitate the asking of questions or seeking support whilst at work, with the ability to demonstrate the exact nature of the problem to a remote help source.
Alongside this, the Internet of Things will become an increasing aspect of all our lives. Ubiquitous computing is an obvious area in which learning and training can flourish: machinery and tools can be tagged and information accessed via phones, for example, to give just in time information in situ.
Big data and the Social Semantic Web
There are also other kinds of approaches to mobile learning content which are rapidly gaining ground. These approaches take more account of the affordances of the device and also of what else is happening in the broader world of technology. Abhijit Kadle in his Upside Down Learning blog, suggests that when we design for learning of any kind we should now think about 4 things:
Big data, huge quantities of user generated content and sophisticated curation.
Ubiquitous and pervasive computing.
Social (human) and Machine networks.
The Semantic Web and Intelligent Agents.
The amount of available data is growing daily and the petabits are adding up. Part of this is user-generated content: being able to upload your own content e.g. on social networking sites has changed how people view their relationship to the internet, to collaboration, and to the way they acquire and share knowledge. This has massive implications for educators, not least because the amount of potential data which could become available. How to leverage user generated content for a variety of learning applications is a challenge for educators and learning designers which can be daunting, but is ultimately a way forward to more enriching content.
What next?
Given the evolving nature of the mobile environment, where does the learning designer now place him or herself? It may seem that content itself has become a slippery and unfixable beast, that can no longer be carefully crafted into clearly defined learning modules, deliverable to an eagerly expectant learner. Learning itself is changing, becoming less and less separate from all the other things that people do with their time, within and beyond the working day. For a controversial view on the future of education, see Seth Godin speaking on Graham Brown-Martin's learning re-imagined blog.
It may be that it is now the job of the learning facilitator to provide more and more opportunities for learning transactions to take place, and also to work on ways in which user generated content can be curated, annotated and shared with others. In this scenario, the teacher/facilitator is still centrally important, providing a guiding element in what could seem like an unrelated, chaotic explosion of data.
Mobile learning platforms, such as MOOCs, are also on the rise. Again, this can combine the elements of masses of data (a repository of papers, articles, links etc) with guided discussions through video conferencing, skype conversations, and so on. In this way, large numbers of people can access learning programmes with top quality educators remotely for a fraction of the cost. However, there is also the need to make sure that the personal element remains, and perhaps there continues to be a need for face to face encounters in learning and training to complement the wealth of digitally available material.
(Inge De Ward has done an interesting research on the impact of mobile access on learner interactions in a MOOC (Massive Open Online Course) and you can find few strategies on her blog )
Learning design and mobile learning is an art form in transition, as this world, our world transforms into a different kind of knowledge acquisition. It's a challenging time for content. The smart learning designer needs to exercise extreme agility, reviewing the whole notion of content and being open to new approaches to facilitating learning experiences and performance support.