Articles
Get your hands on a free Toq smartwatch . . .
by WorkLearnMobile

Do you want a pre-release version of Qualcomm's new Toq watch?
Read below to find out how to create a virtual one in about 5 minutes!
The trend of the year is surely the smart watch. 2013 seems to be the year when everyone is announcing them.
The big guys like Samsung, Qualcomm, Sony, Apple (maybe..)
The small guys like Pebble, who used kickstarter funds to launch
Here at Qualcomm we are especially excited about Toq, our own entrant into the fray. Toq scores way ahead of the others in that mystical trade-off between power, and battery life, by using a special low-power screen, and squeezing 4-5 days of power out of a single charge.
[update: it looks like the industry is loving Toq too. Nice!!]
Toq is not on public release yet. Engadget thinks they will start shipping next week. We've seen and touched them in the labs, but none are officially available yet  .… UNTIL TODAY!
That's because we can offer all WorkLearnMobile visitors your own, virtual Toq watch, for free!
To build your own virtual Toq you will need:
Android device to install the Try Toq On AR app
Colour printer to print out the target
Scissors and tape to cut it out, and stick it on your wrist!
In 5 minutes, you too could be wearing a virtual Toq. Just follow these easy steps:
1. Print out our paper Toq. This will be the "target". Cut it out, and stick it onto your wrist. You should be looking a bit like this:
2: Install the Try Toq On app
3: Load the app, point it at your wrist when it asks you. Suddenly it should look more like this! Your own virtual Toq. Try out different colour combos, as well as some of the different displays.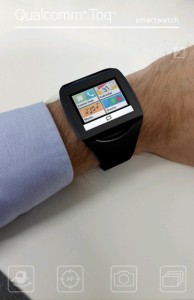 By clicking the little button on the bottom right, you can toggle watch faces.
Have fun with your virtual Toq – and if you want a real one, head over to the official Toq website, where you can get notified when they launch
Let us know what you think of the AR. We think it is a fun use for an exciting, and emerging technology
smallprint: no real Toq's were harmed in this article. The team behind WorkLearnMobile do not have any official involvement in Toq publicity. We're just enthusiasts!