Articles
mLearning Digest – March Edition
by WorkLearnMobile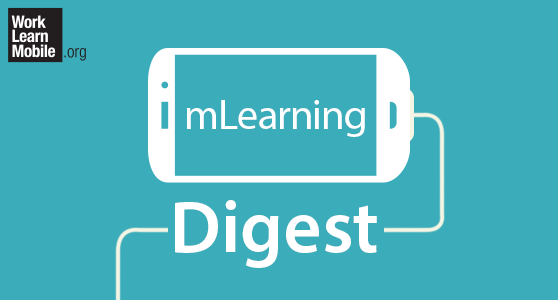 What's happening in mobile learning? Here's what we were reading in March:
Case study
When it comes to compliance training, we usually think of long face-to-face training sessions or online courses tied to a LMS. At Qualcomm, we have those options but wondered, what if there was a way employees could fulfill the compliance requirements during their commute to work or as they wait for the next flight at the airport? What if the learning experience was not tied to a device but is seamless across different devices? Read our case study to find out how we have tackled both learning design and Tin can API implementation to create a seamless solution that works on mobile as well as on desktops.
Best Practices
Multi-device approach is gaining popularity due to BYOD these days and mobile learning is no exception in embracing it. More and more learning designers are doing more than simply instructional design for corporate training. RJ Jacquez shares his ideology on the concept of designing for multiple devices and calls for newer understanding of designing learning/courses that adapt for a variety of devices including plethora of mobile devices along with desktop options. This resonates with our thinking – check out this free ebook on Multi-device testing available exclusively for our readers, courtesy of Upside Learning.
Lessons from Experts
"My mission is to figure out how to use mobile tech to help our employees, our organisation and ultimately our society to work smarter" shares Geoff Stead, who is our Qualcomm's own mobile expert. In this interview with Steve Rayson, Geoff shares his thoughts on the mobile advantage over elearning and discusses the potential of future technologies. Read on for his honest thoughts on mobile trends and implications on learning design.
Research Insights
Multi device can mean rampant touch screen usage, which translates directly into greater brain activity when thumbs or fingertips are touched. For example, repetitive finger movements affect the brain area in video gamers and musicians. Applying similar principle, this new research study by University of Zurich reveals that typing with our thumbs is changing the way our brains work.
While it is still debatable whether this effect is positive, but tapping away on your iPhone is sure to affect the brain and subsequently the way we think. Read more to find the link between Digital Footprints and Brain activity!
House Favorite
Here's an impressive research prototype – an App that helps the blind to type quickly and efficiently on an iPad.
This app is the brainchild of Stanford researchers, who aspired to help the visually impaired with a Braillewriter at an affordable price and more importantly, its contrary to its bulky predecessor – Traditional Braille writers. In addition to how this works, researchers integrated other functions like e-mail and sharing for a basic fee.
This research exemplifies how mobile technologies can be channeled for social good and the underlying message is that it's the idea to change the world.
What would you change if you had the mobile power?