Articles
Mobile Content Strategy
by Jo Colley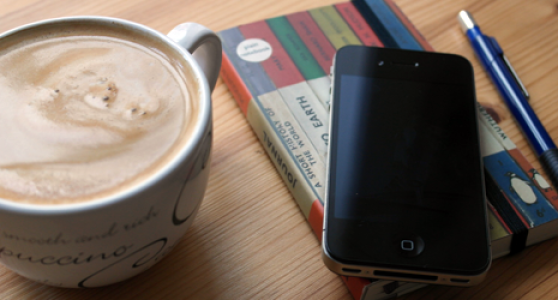 Jo Colley is a digital learning designer at Tribal Labs in the UK.
Mobile content strategy
The world of mobile is rapidly evolving and transforming. This is especially obvious in the way people are currently accessing content, using a full range of devices. It is not uncommon, for example, for an individual to be using two or three devices, either simultaneously or sequentially, and accessing the same types of content. Being able to understand these behavioural changes is a vital part of developing an effective mobile content strategy for your organisation.
So what are the implications of the swift rate of change? What do strategists need to know about what people do and what they want, and how will this impact on content production? Do employees want different types of content on their mobile devices? Does time of day or location affect user decisions? What are the technical issues for reconfiguring content?
What does the research tell us?
Research on both sides of the Atlantic is providing us with valuable insights into how people are currently accessing content, and on which devices. A recent report from Pew Internet on the use of tablets shows that tablet ownership has doubled over the past year (2012 – 13). For the first time, a third of American adults (34 percent) aged 18 and above own a tablet (iPad, Samsung Galaxy Tab, Google Nexus or Kindle Fire). Typically, the owners of the tablets are in the higher income brackets, are college educated and aged between 35 and 44, whereas most younger adults, across the board, will own a smartphone. Tablets, however, are used in a very different way. Another Pew Internet study found that less than 30 percent of users read long-form content on a smartphone whereas 80 percent of tablet users do.
This study also appears to suggest that, as 43 percent of Americans have read long-form content on the web, long-form certainly has its place, and that place is the tablet. if this is the case, then content should adapt accordingly, with, for example, landing pages on tablets providing links to ebooks, white papers and other long-form content to maximize this channel's strengths.
In the UK, recent research from the Financial Times and The Guardian newspapers gives valuable insights into how people access these sites across a 24/7 period. The information points to evening and weekend spikes in mobile use, sitting alongside weekday desktop usage. The Guardian also shares that tablet users tend to use the desktop site more than either the mobile site or the available tablet apps – and that tablet usage spikes between prime time and bedtime. You could infer that the tablet is being used as a "second screen" tool. Other data from this research also looks at types of content: this demographic of users are more likely to browse arts and entertainments sites at the weekend, in the comfort of their own environment, and without the boss's eagle eye over their shoulder.
Other interesting research is emerging. Google have recently produced a fascinating report which documents how people's behaviour is changing, particularly in relation to multiple usage of devices. It's crept up on us: how we will refer to our smartphones or tablets to check something while at our desk or laptop or, very often, in front of the TV. Or, in a different, sequential scenario, we might be in the middle of something at work, move on to our cell whilst in transit to our homes, and then maybe use our tablet or laptop to complete the task. We are no longer simple in the way we access information, or in the times and places that we use our devices.
Knowing when and how users access your content can help to determine what needs to be available at what time of the day and week. Information like this can also influence how content is displayed and on what platforms.
Arguments and counter arguments
For some content providers – it's all about the device and what you might be doing where: this involves imagining/ predicting what a user will be looking for on a mobile site as opposed to a web-based one. And for some users, this will work – they won't want a repeat performance of web-based content, just a lite version to help them do whatever they need to as quickly and pleasantly as possible. For example, or so the thinking goes, when you access an airline website via your smartphone, you just need to get updates on a flight, or check out parking, or other just-in-time info. You do not want to research the flights for your honeymoon or get into complex comparative data. This amount of stuff will just get in your way: you want a quick answer, with minimum text or interactions.
With this argument in mind, some providers are looking at presenting different versions of content per device. This might be about seeing what parts of your content are accessed by what device and tailoring accordingly. The Guardian newspaper, for instance, delivers specialized content to their mobile site, making it the same for tablet and smartphone users. The third element of this strategy is to provide apps which contain content tailored specifically for brand devices such as the iPad or iPhones.
This may sound logical and yet, not all thought leaders – or customers – are in agreement with this. Karen McGrane, a user experience specialist has strong views.
"People … don't want different content, or less content, tailored for the device. They want the same content, presented so they can find it, navigate it, and read it. They imagine that their devices are different-sized windows on the same content, not entirely different containers."
She views the user as expecting all content to be available, on all devices, all of the time. It seems for some, the frustration of not being able to access a full range of content on a smart phone wipes out the advantages of being able to access content on the move.
So what can be done to provide a good experience for users who want to complete a task on more than one device? Not only should the same content be available, whatever device you choose to access it on, there should also be consistency in terms of navigation, with labels and hierarchies remaining as similar as possible. Some things should just work – for example if you send yourself a link to another device, the URL should open just as easily. The notion of "found time" – a sense that you have managed to grab yourself a bit of the precious stuff by swiftly completing a technology-based task – can be easily lost if there is too much tapping and swiping, or if, in a terrifying scenario, work is lost in transit.
What certainly needs to happen is further research so that user behaviour can be clearly identified and understood. The multiple-device world is here to stay, and content strategies will depend on a smarter understanding of how it all fits together.