Articles
What you missed: Learning Technologies 2014, UK
by WorkLearnMobile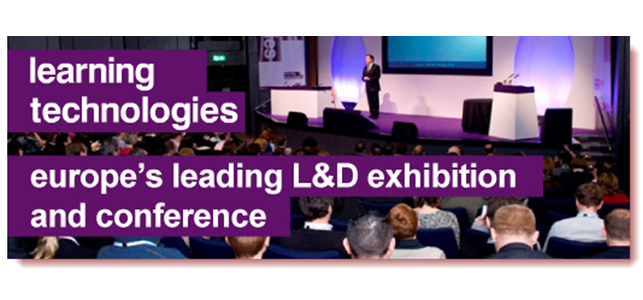 Learning Technologies 2014 in London offers a unique snapshot on what is happening in Learning Technology across Europe. In two intense days, you can meet all the local thought leaders in this growing area, and get a useful overview of all the current trends, and contrasting views. Did you miss it?
Luckily, WorkLearnMobile was there for you. Here are some of our perspectives:
There was a good variety of subjects and session formats, ranging from tactical giveaways on social learning, learning assessments, mobile learning, performance support, experimental tasters on Google glass, reflective lectures on learner behavior and brain science – and objective debates on MOOCs, Open Badges and more.
Here are some of the themes and trends that engaged us the most, or felt like they were useful to inform digital learning design for Learning & Development.
Design and Brain science
One of the key themes of this year's conference was about Designing brain-friendly learning experiences. There was a noticeable interest in the attendees on how to transfer the insights of neuroscience to learning and more precisely, how these cognitive principles would impact the delivery and content design formats.
Few related comments heard from the speakers:
"Learning is an experience and you need Design to create this experience; accompanied by emotion and empathy" (Brian Solis)

"Emotions are important; we need to create emotionally engaging learning based in the context of reality. To remember you need to relate to meaning to engage longer term memories" (Lucy Standing)

"Can anti-reward have the same impact? " (Julie Dirksen)
Design can refer to Interface or Content or the whole experience by itself, and this year's conference offered us good number of sessions on Psychology of learning design that enables fostered cognitive integration and minimize cognitive strain.
Key Takeaways:
What does Learning by doing really mean? One of the speakers unraveled that design elements like surprises, shocks and challenges that can invoke emotions, must be embedded in the learning activity being done.
Videos/games/stories are only a means to the end, for they are meant to create an engaging and immersive effect that triggers the emotions and more importantly – to sense making which is the essence of learning.
Design needs context. Mobile Learning can happen at the "moment of need", which is more like performance support than a traditional course. When designing learning, plan for this.
Mobile is short and sharp. As a designer you compete with other distractions (angry birds, twitter, phone calls, the bus arriving), so make sure learning is easy to dip and out of, and inviting enough to return to!
Mobile Example:
"Build an experience that is short and sharp, but grows over time" (Geoff Stead)
Qualcomm uses a mobile game-engine with flash-cards to help new employees master the internal, corporate Lingo that separates the newbies from the veterans. Based on Leitner's theories of optimizing memory and the forgetting curve, employees can play their next pack of cards at any time, and on any. Results are aggregated online, and contribute to gradual mastery.
User Trialing
In order to make an e-learning solution future proof or fool proof, it is critical to understand the learners' experience and their context.  Many speakers reiterated the fact that better understanding of what their users were doing helped them to curate better user experiences, and planning for an iterative design process would increase the likelihood of a well used design.
Key Takeaways:
Here are a few snippets from the speakers, making this case:
"Without an appropriate user context, Data is pointless and Information is meaningless" (Beau Lotto)
"Even testing with one real user will shock, surprise and enlighten you" (Simon Bostock)
"No wireframe survives contact with the user"
Do you know if your learners get through till the end? (Chris Atherton)
Track what users are doing and learn from actual use. (Terence Eden)
These statements emphasize the need to find how, why and when learners interact with a piece of learning application, which can leave us with a) better understanding of whether or not, the learners are able to achieve the intended outcome via a certain learning strategy b) optimize the application around learner interaction instead of enforcing a product driven behavior.
Mobile Example:
NHS has conducted an evidence based user research to understand the effectiveness of their mobile learning Apps, which helped them identify true learners, their priority business need and refine their design which led to increased usage and download of the applications.
Mobile realities: moving beyond hype into practical lessons learned
There were several sessions on mobile, and how it is being integrated into both L&D, and wider corporate needs. There appears to be an emerging consensus on what works, and what the risks were.
Key Takeaways:
On the practicalities of using mobile:
If you build it, they might not come! It is essential to have promotional strategies, to help your learners find your mobile content.
Build your internal skills. Several speakers started off working with an external vendor to build content, but then migrated to a model where they were training their own staff to edit, and create. They claimed a moderate cost benefit, but significant benefit in staff satisfaction.
Warning: they may want more! Staff that did some of their learning on mobile quickly wanted access to ALL new content, or courses on mobile, or tablet
On the technical debate of native vs web:
Many corporates are deciding against dedicated apps for accessing corporate systems, preferring to follow the UK government's internal guidelines to focus first on making sure all web services work well on the mobile web first.
The reasons for this appear to be a mix of in-house skills (since there are many more web developers, than mobile developers), total cost of ownership (since mobile apps need constant refreshing), and parity of access, given the vast range of different devices
Native apps certainly have a place as learning tools, but make sure you pick native over web for the right reasons!
Google Glass for learning
Despite the name "Learning and Technologies", this year's event was weak on the "technologies" bit. The one exception being a great presentation from David Kelly (eLearning Guild) on Google Glass. He has been wearing one for the past few months, and offered some interesting reflections on how glass might impact on future learning.
Key Takeaways:
Don't be put off by people's initial responses (the tech-enthusiasts, the conspiracy theorists, or the fashion police!). Glass is still very much a novelty, which is a barrier to truly understanding how it could help L&D
The most novel bit for L&D is "freeing your hands". Access to and interactivity with a screen, hands free, creates new possibilities for training and support
Because of this real-time, real view aspect, it is great for:

immersive training (think of a surgeon wearing it, and talking students through what he is doing!)
real time feedback and performance support (think the opposite! Students doing something, with an expert getting a live view, and coaching them)
augmented reality
high risk training (again, the benefit of that first person viewpoint)
So – a great event, with lots of interesting experts in L&D, but disappointingly light on novel uses of technologies for learning.
These were some of our thoughts. Where you there? What stood out for you?