Articles
Wow – Augmented Reality Artwork
by WorkLearnMobile

Is this the worlds biggest Augmented Reality artwork? It was, and might still be!
Sometimes the coolest things happen quietly. Early one morning just as the sun was rising, a team of artists and technology geeks stealthily hung this huge artwork over the side of one of Qualcomm's buildings. The building, a rather functional warehouse, was suddenly transformed into an augmented artwork.
Driving by it looks like a fun, two dimensional artwork but come a little closer, and you'll see a tiny message informing the visitor that this artwork is augmented. Installing the free app lets you view the wall through your phone and suddenly all the flat, 2D shapes burst into 3D and start moving around!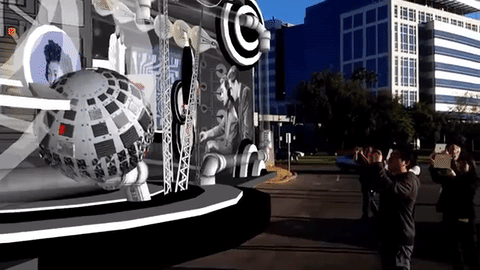 This is Augmented Reality. Similar to Pokemon Go, but these animations know their place. They stick onto the wall making the real, physical item appear to burst into life.
The artwork is the result of a collaboration back in 2014 between Qualcomm's mobile learning team, Re+Public, and some of the tech guru's behind the Vuforia platform. As you walk along the wall, it tells a story of invention tracing a history not unlike Qualcomm's own, with a small group of engineers creating the tools to enable information to flow, ultimately changing the world.
The ultimate blend of mobile + augmentation + reality + art.
As far as we are aware, it was a world first.
The largest AR enabled artwork, unusual in the number of moving parts as well as the ability to view it both close up and far away. If you have ever worked with AR before you'd know that big targets are very complex. Most AR applications use a small poster, or trigger that can fit into the camera view in its entirety. This project needed to weave together multiple smaller targets, so the animation works whether you are far away (and see the entire wall), or close (and just see a small part).
Big thanks to the awesome people behind the project, which included Re+Public, Vuforia, WorkLearnMobile, Thinkabit Lab (/), and Qualcomm's Mobile Learning Team