Articles
mLearning Digest – January Edition
by WorkLearnMobile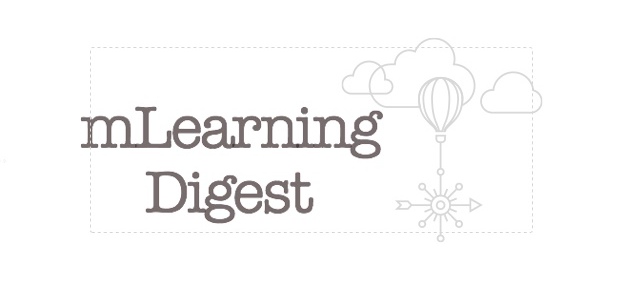 Saving you time by sorting through the best of January's mLearning:

Mike Trucano from World Bank has published his Top Bad Practices in Mobile Learning. His focus is more schools than enterprise, but it's a a great summary of mistakes we all see far too often. Well worth a read and a good check-list for implementors.
Another stylish summary from Upside learning:  Tips on Designing, Testing and Delivering eLearning in a Multi-Device World is a free downloadable e-book with a great collection of tips and practices that can help your Design teams become masters of multi-device projects. This has an (obvious) e-learning focus, but covers all the essentials of designing, testing and delivering responsive learning applications.
"Having mobile presence is no longer an added bonus for businesses; it's a necessity." Read 9 (often overlooked) things to consider before going mobile-first for expert insights from young entrepreneurs on essentials of mobile-first approach.

New year, New predictions. Read Allison Rossett's perspective on what's going to emerge in workplace learning in 2015. Explicitly or implicitly, mobile is at the heart of all six trends she highlights for 2015.
L&D insights from the CES show? Sharon Boller summarises technology trends she saw at the Consumer Electronics Show that have potential within the L&D industry. Read Four Emerging Technologies that L&D Leaders Need to Consider.

Chad Udell from Float learning is a reputed mobile learning thought leader (and also a featured WorkLearnMobile mobile expert). Listen to Connie Malamed's interview with him, where he shares broader definition of mobile learning and talks through the possibilities to help employees use mobile to enhance their work experience along with inexpensive ways to implement mobile.
Following on, you can read a case study shared by Float Learning on How Performance Support Helped Miners Safely Operate Equipment to get a sense of Chad's ideas.

You have implemented mobile learning in your organization, what next? Learning adoption is a much needed topic for L&D professionals who are trying to experiment emerging learning technologies and applies to every form of learning from classroom to mobile. Read through BJ Schone's presentation deck for highly recommended best practices to drive adoption of learning solutions in enterprises.
Interested in adding to the list? give us a shout!
DISCLAIMER: This digest is provided as a service to L&D community, and does not imply an official Qualcomm endorsement or recommendation of a company, or product