Articles
Self-paced e-learning is dead. Long live mobile, personal, augmented, gamified
by WorkLearnMobile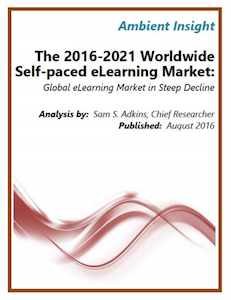 If you are interested in the online learning industry, take the time to check out Ambient Insight's long, but interestingly blunt report on the future of the generic e-learning industry
If you are in an industry still wedded to big-screen e-learning makes  for a chilling read. Just have a look at these growth rates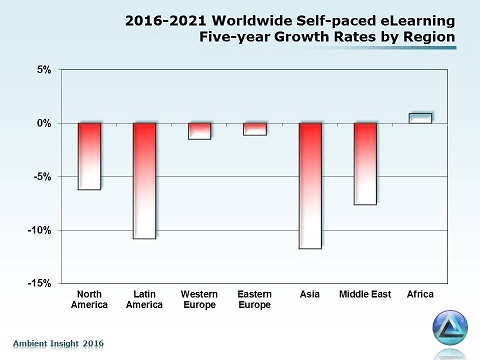 For the <TL:DR> synopsis of the report, Ambient predicts:
Traditional VLE / LMS products are over priced, over commoditised (easy to swap out), and incapable of adapting to cope with the rise of new learning technologies. Which are rapidly replacing them
Those new technologies are mobile, personalised / adaptive, augmented, gamified
The only learning technology platforms that are expanding are ones that are offering specialist services that underpin other platforms (things like personalisation engines)
The good news for mobile learning people is that this aligns precisely with where most of us are heading anyway. Slightly more scary if you are still in the business of content-heavy big-screen courseware
Ambient are good. They are one of the few research teams that focus purely on learning technologies, and have genuinely good insights into our industry. Their reports normally sell at a premium fee, but surprisingly this one is free. Their certainty about this trend is summed up somewhat painfully:
This is a free report. Due to the steep decline in the Self-paced eLearning industry, Ambient Insight will no longer publish commercial syndicated reports on eLearning. Ambient Insight will continue to track the industry and will publish free annual whitepapers on the global Self-paced eLearning market.

The global eLearning industry is now in the midst of a perfect storm of market conditions that are driving revenues down including weak demand for most self-paced products, commoditization, the late stage of eLearning's product lifecycle, pronounced product substitution, and the so-called leapfrog effect with buyers in developing countries completely bypassing eLearning for newer products.
Interesting times . . .
What do you think? Harsh? Or Real?
I don't think this is the death knell of e-learning, but rather the end of the line for over-priced, ineffective content that has been sausage-machined into an e-learning format. It's time to demand more of your learning technology. Use it to support vibrant pedagogy, not merely as a distribution mechanism.
(interesting side note – we use exactly the same metaphor, the Perfect Storm, in our own whitepaper on Mobile Performance Support. check it out)